Partner Success Story
Powering conversations for one of the world's leading HR services platforms
Learn how LivePerson helped bring efficient, engaging, "always on" Web Messaging support to 49 of Conduent's largest relationships.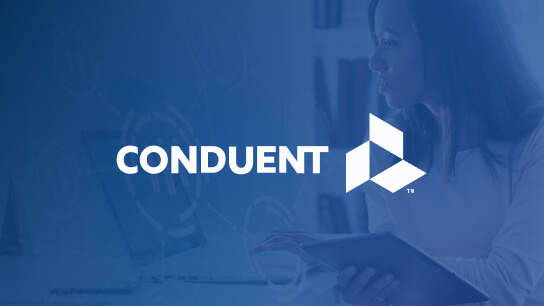 Conduent's Human Resources and Learning Solutions provides the most comprehensive suite of digitally-enabled HR offerings in the industry, serving one-third of Fortune 100 companies across 80 countries. Conduent's digital platform offers a compelling and personalized experience that improves both the workforce experience and companies' operational efficiencies by 30-40% on average. The addition of AI-powered messaging was a no-brainer.
Over 400 of Conduent's client center support representatives now use LivePerson's Conversational Cloud to manage asynchronous, web-based messaging interactions with their customers' employees and retirees at 2-3X the efficiency of representatives in traditional voice channels.
"LivePerson's Conversational Cloud makes it easy for us to make adjustments to campaigns as required, allowing Conduent to be highly responsive and agile which is critical to our success — especially during the turbulence of 2020."
— Neil Rixe, Director of Technology