The most impactful KPIs are conversational
Benchmark and monitor marketing, sales, and customer care KPIs in real time. Optimize your operations and gauge the impact of your Conversational Cloud investment.
Capture every conversion
Quantify the top-line impact from your Conversational Cloud investment. With Conversation Analytics, it's easy to identify conversations that convert to sales along with their average order value. And for offline businesses, tracking lead conversion is seamless.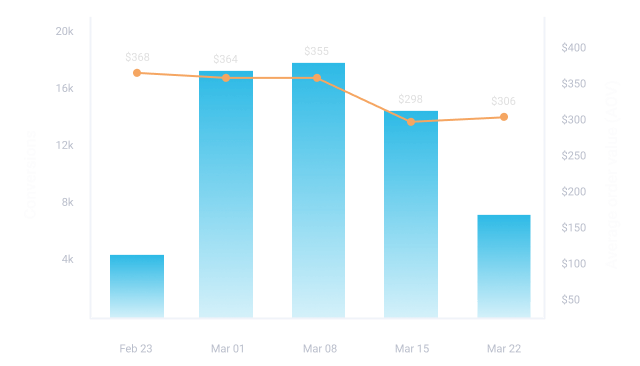 Cultivate first-class customer care
Performance Optimizer™ is an intuitive dashboard that tracks performance against internal targets and industry benchmarks, while providing actionable insights and recommendations for fast, data-driven decision making. Performance Optimizer is underpinned by LivePerson's proprietary 4E Framework™, which helps brands gain a deep understanding of operational efficiency, effort, effectiveness, and consumer emotion to optimize conversational experiences.
Leverage conversational data across your entire business
The Conversational Cloud includes a number of reporting and data APIs that allow you to integrate data from conversational interactions with CRM, business intelligence, and other systems.
LivePerson Functions